What are the Advantages of Using Aluminium Housed Resistors in High Power Industry Applications?
When an Electrical / Electronic Equipment requires superior heat dissipation, a specific type of resistor – Aluminium Housed Power Resistors – are a preferred choice. Take for instance, the pre-charge circuit of an Electric Vehicle or the Surge protection system of Medical Equipment. The key requirement in these applications is quick heat dissipation during high power operations. At the same time, the resistive element needs to be compact in size and maintain relatively low surface temperature.
As the name suggests, these high power resistors are wire wound resistors encapsulated in an anodised Aluminium housing, which itself acts like a heat sink. The Aluminium casing may be further bolted onto an external heat sink to maximise heat conduction. A wide range of resistance values can be supported using this type of resistor. The goal is to ensure maximum winding uniformity, rapid heat transfer, reliability and stability for the connected device. This type of construction is used for the highest power levels.
Read on to find out …
What are the distinguishing characteristics of Aluminium Housed Resistors?
These resistors are essentially of wire wound type consisting of the following major components: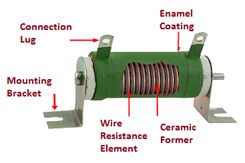 Characteristics of Aluminium housed resistors
1. High quality wire winding – usually made of Copper-Nickel or Nickel-Chrome alloy with high temperature coefficient of resistance. The wire-wound design maximizes pulse handling capability. The winding is designed to give maximum core coverage and uniformity for even heat dissipation. Using different materials for the wire provides for different electrical properties such as resistivity, temperature coefficient of resistance, long term stability and maximum operating temperature. The appropriate material is chosen for desired performance.
2. Large ceramic core – with a silicon resin coating over which the winding is done. This ensures high thermal conductivity. Ceramic, steatite or alumina is used depending on the size specifications. The internals are also designed to conduct as much heat as possible to the aluminium case.
3. Extruded Aluminium housing – like a die cast, with a hard anodic finish. There may be natural or external air convection around the resistor. Deep fins constructed on the Aluminium body helps in maximising heat dissipation. Gold anodized finish may be used for maximum resistance to environmental conditions. Special thermosetting compound provides high thermal conductivity. The power is rapidly dissipated as heat through the aluminium housing to an external heat sink. The housing also helps to ensure good electrical insulation and to keep the surface passive.
4. End caps and terminals – made of Nickel, Iron or stainless steel and fitted onto the ceramic core. The resistance wire is welded to them to make proper contact. Embedded wire terminals which can be customised as per the requirement.
Usage precautions for Aluminium Housed resistors
Aluminium Housed resistors are mainly employed in extreme temperature/heat and high power applications. There are some common precautions that can be adhered to when using these high power resistors. This will lead to reliable and stable performance over longer periods of time.
Heat sink with lower thermal resistance is acceptable, uprating is not recommended. It is always better to use the heat sink as prescribed in the product datasheet.
A heat sink compound can be applied between the resistor base and heat sink/chassis mounting surface.
Maximum hot spot temperature (generally around 200°C) is not exceeded.
Critical Voltage and Resistance values are adhered to. Refer product datasheet for allowable overload capabilities.
Wire wound resistor inductance
An important consideration that equipment designers need to pay attention to, is wire-wound resistor inductance. By design itself, the resistor wire winding acts as an inductor. Wire wound resistors are very good for low frequency and DC operations. But as the frequency of operation rises (100 kHz and beyond), the effects of inductance and capacitance become significant and might alter the circuit operation.
The effects of inductance can be minimised by employing some non-inductive winding methods such as Ayrton-Perry winding or Bifilar winding. Many Aluminium Housed Resistors manufacturers also offer non-inductive models with equivalent physical and electrical specifications.
What are the Advantages of Using Aluminium Housed Resistors?
1. Superior heat dissipation – Natural air cooling may be sufficient for upto 100W. But generally, for increased power, an external heat sink is connected. At high ambient temperature, power dissipation derates (maximum allowable dissipation of a heat sink mounted resistor) linearly in these resistors.
2. Supports a wide range of resistance values – May range from 1Ω to several KΩ. Ohmic values are directly proportional to the size of the resistor.
3. Low tolerance – Resistor tolerance is a measure of the resistors variation from the specified resistive value and is expressed as a percentage of its preferred value. Aluminium housed resistors offer low tolerance, generally around +5%.
4. Resistance to environmental conditions – Good electrical insulation, surface cooling, flame proof and corrosion resistant.
5. High Temperature coefficient of resistance – Wire wound resistors provide very high temperature stability when compared to other types of resistors.
6. Safety and reliability – Pulse with-standing abilities, rugged and compact build. All resistors change their value with time, but wire wound ones change by very little. So these resistors offer reliable performance for several years of usage.
7. Compact size – Wire wound resistors offer excellent heat dissipation properties even with small physical size. Therefore, they are the preferred choice in applications where space is a constraint such as in EVs and VFDs.
8. Easy to customise – Several aspects of the resistor are customisable as per the specific requirement. Size can vary as per the power ratings. External Heat sink is mounted for additional performance. Gold coated finish is applied for environmental resilience. Cable length on the terminals can vary as per need. Fixing and mounting are also flexible.
9. Mounting options – Standard mounting involves simple screw fixing in the defined mounting pitch. Chassis mounting and Heat Sinkable Mounting options are also common.
What are the major Industry Applications of Aluminium Housed Resistors?
Wire wound resistors find wide acceptance in several high power applications such as Electric Mobility, Power Electronics, Automation and Drives, Frequency Converters, Industrial Automation and Medical equipment. This is especially for the purposes of Anti – Surge / Pulse Withstanding, Current-limiting, Discharge, Dynamic Braking, Filter Resistors, Experimenting and testing.
How Aluminium Housed Resistors are used in Electric Vehicles Manufacturing?
Converters in charging systems – Pre-charge and discharge resistors
Variable speed drive systems – Dynamic Braking resistors
Engine cooling – Resistors with or without a heat sink
Renewable Energy – Pre-charge and discharge resistors
Other Industry Applications:
1. Industrial Automation:
As load
Motor Controller
Material Handling
Robotics
Electric Drive
Process Engineering
Industrial Controls
Welding Equipment
Temperature sensors, Resistor Potentiometers and other test equipment
2. Power and Consumer Electronics:
Frequency Inverters
Inverters
Power Supplies
Capacitor Circuits
Servo Motor Controller
DC link Application
Transducers and televisions
Audio Applications
3. Medical industry:
Human contact devices – defibrillators, Electro-Cardiogram (ECG) and Electro-Encephalogram (EEG) devices.
Imaging systems and diagnostic equipment – X-Ray, CT-Scan, Ultrasound and MRI scans.
Analytical Equipment and Instrumentation – In-vitro devices (IVD) and other laboratory apparatus.
Aluminium Housed Resistors from KWK
KWK Resistors is a global market leader in resistor solutions with satisfied customers all over the world. High power resistors, Braking resistors, Thin Film, Wire wounds, Punched Grids, Metal Clad resistors – whatever the type of resistor solutions customers are looking for are available. Solutions can cater to a broad spectrum of resistance requirements – from a fraction of a watt to hundreds of kilowatts.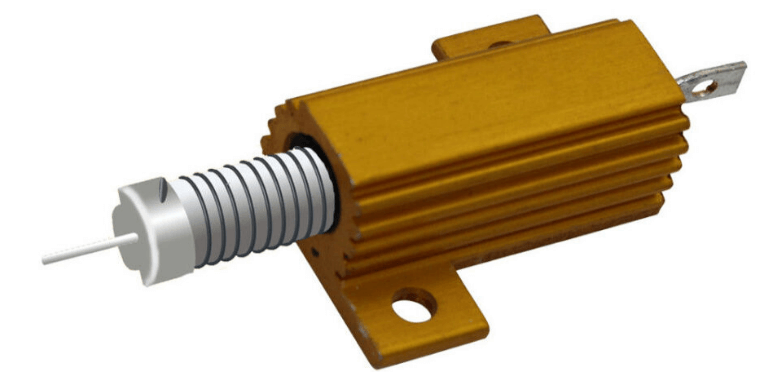 Aluminium Housed Power Resistors from KWK
With world class design and manufacturing capabilities in-house, KWK excels in understanding customer's needs and delivering customized solutions to suit them perfectly. An industry pioneer with over 40 years of experience, KWK resistors is a Joint Venture between three leading Power Resistor manufacturers – K S Instruments Pvt Ltd India, Krah Group Germany, and Widap Switzerland.
KWK Aluminium Housed Power resistors are used in a wide variety of applications. They come in various models depending on the wattage, resistance and physical dimensional requirements.
KWK has a broad range of power resistors in its product catalogue. In case of specific customer requirements, our design team of experts can suggest the perfectly suited solution. Design of higher wattage resistors for special applications can be done with ease.
Salient Features:
Excellent Electrical stability, reliability and mechanically very rigid
Excellent Heat transfers and small dimensions
Wide range of resistance values are available for application in the range of 5W to 300W
Designed for direct heat sink mounting
UL approved cables used for terminations
Non Inductive version available
Available termination types are Solderable, Screw fitment, Faston terminal and Cable lead-out. Custom terminations and Mounting arrangements possible as per requirement
Complete welded construction terminal to terminal
Custom terminations & Vertical mounting arrangements possible
Stacking solution available
LSCO Approved – JSS-50471 Compliance
CE certified
RoHS & REACH complaint
Mode of Operation and product specific application
Current-limiting resistor – Current limiting during motor-start [Compressor]
Load resistor – Ballas and discharge of batteries, UPS and power supplies [Test equipment]
Brake resistor – Absorb impulse load of converter, E-mobility [Elevators,Robotics,Escalators,Hybrid vehicles]
Charge & discharge resistor, bleeder resistor – Pre-charge and discharge of a capacitor [DC-Indirect conversion of a converter]
Filter resistor – RC-Filter [Converter,Net interconnection]
Heating resistor – Air-conditioning [Cabinet]
Ballast resistor – Voltage divider [Electric range]
Balancing resistor – Compensation, converter [Capacitor]
Shunt – Measurement bridge [Measuring equipment]
KSAH – SLIM PROFILE ALUMINIUM HOUSED RESISTORS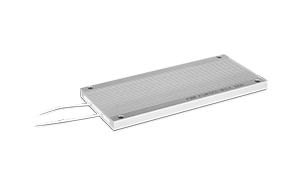 Range of high quality, high stability Aluminium housed Power resistors designed for direct heat sink attachment. This is also one of the slimmest profiles available in this power range. A wide range of resistance values are available in powers of 100W to 500W.
KHA – GOLD ALUMINIUM HOUSED MOLDED RESISTORS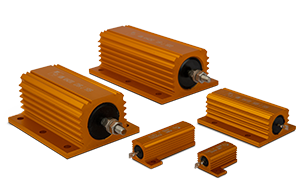 Range of high quality, high stability Aluminium housed Power resistors with Gold finish for excellent resilience to external environmental conditions. A wide range of resistance values are available in powers of 5W to 300W.
ULS SERIES – ULTRA LOW PROFILE SLIM RESISTORS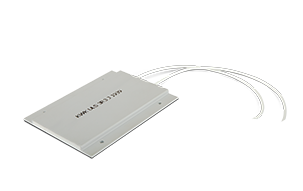 Flagship product from KWK Resistors. It has the distinction of being one of the slimmest power resistors in the market across the world, in the wire-wound type. It comes with a 6mm profile thickness encased in a sleek and sturdy Aluminium body. These resistors are typically suited for low frequency applications which require high precision of resistance values. The ULS is designed to have medium to high energy capacity for a metal clad resistor, decent range of resistance values and a good electrical insulation.
Talk to our experts to get a free technical consultation for custom resistors requirement or select desired ranges from our existing product catalogs.