Introducing Electronic Programmable DC Load Banks from KWK
KWK Resistors India Pvt. Ltd., a brand with global presence in the world of Power Resistors, is an ISO 9001 certified Power Resistor Manufacturer with CE certified products under its product portfolio. On par with the competition, KWK Resistors is bringing innovation into the world of testing and validation with industry leading Load Bank Solutions.
Diversifying our product portfolio in the load banks product category, we bring to you our new product range of DC Programmable Electronic Load Banks.
With our comprehensive load banks solutions we cover both Resistive load banks and DC programmable electronic load banks to suit our customer's diverse testing needs.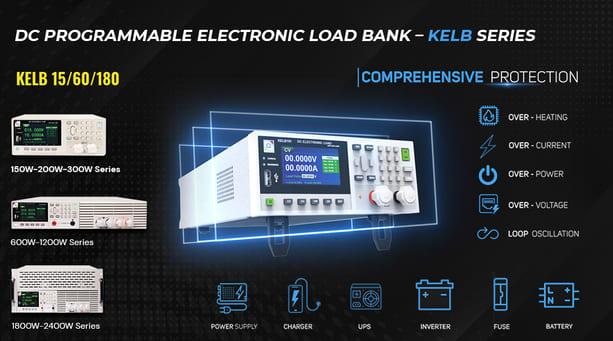 Electronic Programmable DC Load Banks
KWK Resistors introduces the KELB Series, a DC Electronic Programmable Load Bank with 3 models under the series.
These load banks offer a high accuracy testing facility with an instrument self-diagnosis support and multiple protection features. The KELB series comes with an intuitive LCD display screen and modular design.
Input Power Range:
Specifications:
500kHz high speed voltage, current sampling rate
Programmable single step up to 10 µS
Voltage Rating Range 15V – 500V
Test accuracy and safety:
Precision Programmable DC Load
Controlled by a high-performance ARM Microprocessor
High precision voltage and current measurement
Fast loop response speed and current slew rate
Protection from Overheating, excess current, excess voltage and excess power
Display:
3.5inch TFT True Color LCD Display
Keypad for selection
Unique real time display of current ripple and voltage ripple
Real time display of load power and resistance
Construction and Setup:
Bench top
Supports LAN, USB, RS 232 and analog interfaces to suit your versatile testing requirements
Equipped with remote four-wire compensation
Working Modes:
These Electronic Programmable Load Banks operate in 4 basic working modes and 11 different extended Functional Modes.

Constant Current (CC) – Most frequently used mode. Load will sink the programmed current independently from the output voltage. Typical voltage source connected is a battery.
Constant Voltage (CV) – The electronic load sets a fixed programmable voltage across its terminals independent of the input current. Typical current source connected is a current charging circuit or a LED current driver. The load adjusts its resistance dynamically to attain the programmed voltage at any current established by the current source under test.
Constant Resistance (CR) – Here the load acts as a fixed programmable power resistor. The power source could be a typical current or voltage source.
Constant Power (CP) – The load module absorbs a constant power out of the Device Under Test. Therefore, a regulated power is maintained as per the programmed value. The Device Under Test can be either a voltage or current source.
Extended Functional Modes
Short Test Function (Short-circuit Simulation Function) – Simulates a short circuit to the source under test, which helps to check whether the protection function of the source operates normally under the short-circuited condition.
DYNA Mode (Dynamic Test Function Mode) – Used to test dynamic characteristics of the source where the Electronic Load can switch repeatedly between the two load currents.
OCP mode (Over Current Protection point test mode) – Ensures that the input voltage is below the OCP trigger value and terminates the test if it exceeds this value.
BATT Mode (Battery mode) – Used for battery capacity testing using discharge conditions. Discharge times and discharge capacity can be observed in this test.
EFFT Mode (Load Effect Mode) – Operates in 3 different load modes Lmin, LNormal and LMax. Voltage recording is done after a different preset delay value in each of these 3 load settings.
SWEEP Mode (Dynamic Frequency Conversion Scanning Function) – Provides a variable frequency sweep function to capture the voltage peak (Vp+) during overshoot and the voltage valley (Vp-) at the time of the fall in the most severe test conditions.
TIMING Mode (Time Measurement Function) – Under the predetermined load condition, E-load automatically captures 2 trigger signals and calculates the time interval. After the test is completed, the E-load shows the time interval (Time) of the two triggers.
OVP Mode (Over Voltage Protection Mode) – When the input voltage is higher than 110% of the rated voltage, the E-load will display" OVER VOLT", the E-load will be immediately OFF and the buzzer will sound.
AUTO mode – Used for automatic product inspection of the production line. The load current is loaded and tested sequentially according to predefined steps to judge whether the product meets quality standards or not.
LIST function – Can simulate a variety of states of load change, where the load current is synchronized by internal or external signals to complete multiple quasi-bit load precision tests.
LED Simulation Function – Can simulate the LED at the input and switch the LED working state.
Applications
Automotive electronics
To test and determine the working current for car radio, seats and heating sub-systems
To verify the stability and aging of MCU control box, car doors, windows and switches
Batteries
Discharge testing for mobile phone batteries, solar cell batteries, car batteries
Discharge testing for mobile phone power adapters
Power Supply
Performance testing for constant voltage, constant current and switching power supplies
Performance testing for medical, aerospace, military and scientific research equipment
Performance testing for UPS and various types of chargers
LED
Performance and Stability Testing of LED drive power
Power electronic devices
Performance testing of MOSFET, IGBT, Capacitors, Rectifiers and PFC modules
Fuses
Fusing time test for various types of fuses
Electronic Load Bank Customer Deployments
1. Renewable Energy – Solar PV modules Safety Testing
Used to test the safety parameters of PhotoVoltaic modules such as Withstand Voltage, Insulation and Ground continuity detection. This 3-in-1 test apparatus is designed to match the assembly line, which saves space and improves test efficiency significantly.
2. DC Power Supply – Batteries Short Circuit Testing
Used for short circuit testing and contact detection in Lithium Ion/Polymer battery cells and related battery packs. The load bank helps to detect the insulation degree of two tabs, tabs and separators.
Small metal particles or other defects present in the winding of the soft-pack battery may cause a slight short circuit of the objects under test. Direct application of high voltage could cause the metal particles to fuse or the defects to burn and show a good insulation test, resulting in misjudgment.
The traditional test method requires two testers to complete this test process. The unique panel calling function of our Electronic Load Banks makes it possible to use just one device to complete the same testing, thus resulting in major cost saving.
3. PCB – Multiple Reliability Testing functions
Used to perform multiple reliability tests on Flexible PCBs such as Continuity test, Short Circuit test, High voltage continuity test, High current continuity test, Insulation withstand voltage test, NTC thermistor test with a single load bank test apparatus.
Since the programmable load bank acts as a single integrated testing device, it results in significant reduction in testing time, greater production efficiency and control over product quality.
4. Electric Vehicles – Comprehensive Testing of Charging Guns
Our high-voltage wire harness test equipment is used to test the quality of charging guns used in renewable energy driven vehicles such as EVs. The electronic load bank acting as a single integrated test device can handle multiple tests such as Continuity test, Short Circuit test, High Voltage continuity test, High current continuity test, Insulation, Withstand voltage, NTC thermistor test, solenoid valve grounding test.