Why are Resistive Load banks used in Data centers and Server Racks?
Resistive Load banks are categorized as testing equipment that are used to commission, maintain and simulate a typical electrical load / source in order to assess the electrical power source such as a generator, UPS or battery systems. A test environment thus created allows the load bank to accurately replicate and verify the actual or real load that will ultimately be connected to the power source.
Why use a Resistor Load Bank?
Load banks are used to test electrical power output from sources such as generators, UPS & Battery systems while carrying out commissioning and maintenance work. By simulating the actual load engineers can test all required electrical and control parameters before connecting the actual equipment such as computer servers, power generation equipment, Air Conditioning systems etc.
What is an AC Resistive Load Bank?

The resistive load bank allows you to test a prime mover and a generator at 100% capacity. This method employs a straightforward process for measuring loads: electrical energy is converted to heat via power resistors, and the heat is dissipated from the load bank by air using high power convection cooling fans.
Resistive Loads banks come in a wide range of options based on their size to the power range required. Here we focus on these 2 resistive load banks
What are the types of Resistive Loadbanks available from KWK Resistors?
RESISTIVE LOAD BANKS – ALPHA SERIES – 19" RACK MOUNTABLE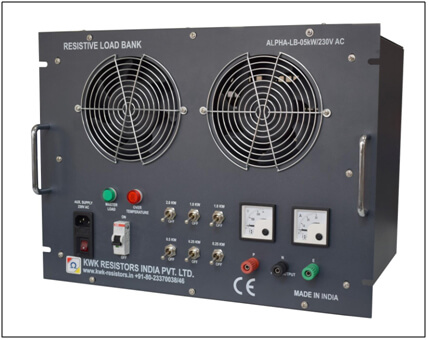 KWK Resistors is India's only ISO 9001 Certified Power Resistor Manufacturer to provide a CE certified Rack Mountable Resistive Load Bank. The ALPHA series of Load Banks fit into a standard 6U 19″ Server Rack system or can be also placed as a table-top test equipment device. Powers up to 5kW are available with these series and combinations of these units can provide for higher Power testing requirements where required. Power supply shut-off due to over current and over temperature ensures safe operations during testing and commissioning.
Features:
Resistive test loads suitable for 19" rack mounting or Table top use
Powers upto 5KW available in this series
240VAC, 110VAC and Dual Voltage options available
Metering available for quick reference
Forced Air cooling for efficient operation
Over current and Thermal protection for safe operation
RESISTIVE LOAD BANKS – BETA SERIES – 19" RACK MOUNTABLE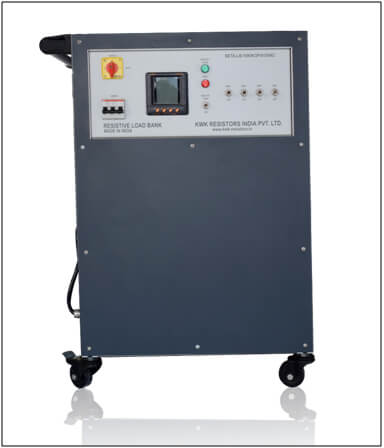 BETA is the higher version of Alpha series. BETA series Resistive Load Banks has a range of 10KW, 25KW & 50KW. (We can design load banks other than standard power rating on request.)
BETA is a standalone structured Resistive load bank provided with castor wheels for easy movement. These series have higher safety levels like Air flow detection, Emergency Stop, Over temperature, Over Current & Short Circuit protections.
Features:
Single phase & 3-Phase combination can be provided.
Panel Meters for Voltage & Current.
Manual Operation Mode & Auto mode can be provided
Manual Operation Mode – Load steps to be operated manually by authorised personnel.
Auto mode – Load steps are controlled by PLC or any digital I/O devices through potential free contacts.
Resistive Load Banks Explained
Over Temperature – Embedded with an led within and working in accordance with the temperature sensor, provides indication if the system is running beyond prescribed temperature levels and turns off the device as a safety feature and hence preventing further damage.
Master Load – Indicates load is in ON condition and load step switches can be activated.
An auxiliary/control voltage is required for the operation of the fans, meters and some internal controls. A steady 230Vac 5A or 115Vac 5A source can be connected on the front panel marked Aux Supply with the cable provided
Circuit breaker – Protects the load unit from over current & short circuit.
LOAD OUTPUT TERMINALS (P, N & E): The test source, Phase (P)
Neutral (N)
Earth (E) should be connected to these terminals
Current – Terminals for external current measuring devices.
Voltage – Terminals for external Voltage measuring devices.
Switch – This particular device is a 1KW model. The four switches marked with the value 0.25KW provide a manual adjustment by the user between values ranging from 0.25KW to 1KW with a difference of 0.25KW.
Fan to help dissipate heat.
Resistive Load Banks Industry Applications:
Resistor Load Banks for Data Centers
The Data center industry is growing exponentially with new facilities being built globally. Power consumption in Data centers is also growing and the need for reliable power cannot be under-estimated. Power outages and unreliable power can not only take down expensive equipment, it also leads to loss of revenues due to these outages.
When a new data center is being commissioned or when periodic maintenance / testing of power quality is required – then Data center managers turn to Load banks to help identify potential issues such as faulty electrical components or systems that are bound to fail when the actual power source is applied.
Resistive Load Banks for Server Racks / Server Load Banks
Lower capacity Resistive Load banks in a Rack mountable design can fit a standard server rack and are used to simulate the heat and power consumption of that of a normal server to test potential errors in power without the risk of using expensive servers.
During the process of commissioning a data center, the room design, placement of equipment and the effectiveness of the cooling system in the room has to be tested and verified. This has to happen prior to installation of servers and other equipment. Server mounted Load banks play a very significant role wherein the conditions of production servers can be replicated precisely by varying the electrical load, heat and airflow. Data center managers can validate the cooling system's ability to manage the designed temperature delta of the production servers.
Benefits
Create conditions during data center commissioning

Built-in thermal protection, power supply shut-down features for safe operation

Configurations of different load level combinations to provide greater fine load step resolution at all voltage levels

On-going Preventative maintenance of misconfigured power & IT systems
About KWK Resistors
KWK Resistors is India's only ISO 9001 Certified Power Resistor Manufacturer to provide a CE certified Rack-Mountable Resistive Load Bank. KWK Resistors India is in the business of design and manufacturing of a wide variety of resistors. These resistors find application in diverse domains such as elevators and cranes, healthcare, lighting and automotive in addition to usage in the defense sector. The company offers customized solutions to cater to the specialized needs of our clients. The solutions cover a broad spectrum of resistive requirements from a fraction of a watt to hundreds of kilowatts; from SMDs to Wire wounds, Punched Grids, Metal Clad resistors etc.